Anyone who works in business agrees that customers or in some cases clients are the main component in any business. Basically, you do not have a business if you do not have someone to sell products or services to. This is why a very important factor in any kind of business is building a good relationship with them. In theory, this doesn't seem like an area you need to concern yourself with, however, if you have competitors or you want to increase your customer base, it may be time to consider your stance when it comes to customer relations.
1. Reliability
Generally speaking, your customers or clients need to be able to trust you. This can be achieved if you give them the impression of being reliable. You can build this impression of being credible by providing them with accurate information about the field that you are working in and by being consistent. This shows that your business is credible and trustworthy, which means that they should listen to what you have to offer. You should also focus on building this reputation for your business by continuously contacting customers to follow up with them as well as by providing after-sales customer care.
2. Communication
Proper communication is key to maintaining a strong relationship with your customers. This can be done through e-mails, chatting, or if you want it to be more personal, you can have your customer service team communicate with clients or customers through phone calls. You can also have an easier time contacting them by using platforms and tools specifically crafted for this purpose. Only a few people understand its value in businesses and the professionals at https://saicom.io/ state that collaboration and communication are crucial for any business to develop. If your business is still small and you solely deal with your customers, you should be careful to set a time for customer communication so that it does not take over your entire day. This will also ensure that you do not spend a ton of time dealing with one client and ignoring others that are trying to reach you. Ideally, you should have a dedicated employee to handle communicating with customers so that you can focus on the products or services you provide.
3. Positive Attitude
Believe it or not, this is one of the hardest steps to follow when it comes to building a steady relationship with your customers. Caving into a bad attitude can be quite easy, especially since more often than not, the customers contacting you will be frustrated because a product or service is not to their liking. Nonetheless, you need to persevere if you want your company to succeed in building good customer relationships. You can try making small talk instead of putting them on hold on the phone, try to sound positive when speaking to them even if you would rather be doing something else, and calm them down by telling them that you will do your utmost to help them solve the issue they are facing. Usually, when you do that, the heat of frustration subsides and they go back to their normal and manageable state.
4. Follow-ups and Check-ins
If a client has an issue that was supposedly dealt with, it is crucial that you follow up with them. This shows your customers that you actually care about their issues and that you are treating them as individuals rather than as a way of getting more profit. Checking in with them after they purchase a product or service you are selling also gives them a good impression of your business and will ensure that they do not start looking for similar products or services from your competitors.
5. Ask for Reviews
Reviews are a great way to get feedback from your customers. It shows your clients that you care about their opinions and that you want to improve for their sake. Reviews are also great because you can use the data to figure out the areas you need to work on and what is going well for customers. It also shows potential customers your honesty and that you have a loyal customer base. This kind of feedback will give you a better idea about what they need for you to tailor your products and services accordingly.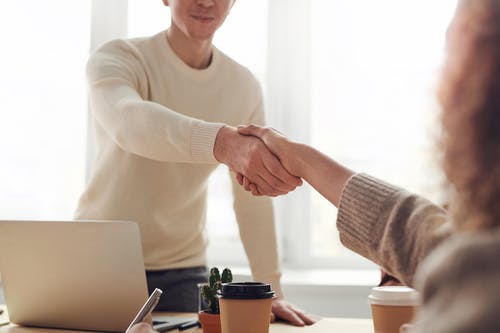 Now that you are aware of the steps you should follow to build a successful relationship with your customers, it is time to start applying what you learned. It can be frustrating to deal with angry customers, but you should always remember to put yourself in their shoes. Using these tips, your business will be climbing to the top in no time.