The UK employment rate, job market and salary statistics are continuously shifting. If you are looking for a new opportunity or are involved in hiring processes at your company, it is important that you keep up to speed.
The number of job seekers fluctuates with the change in markets and so do their expectations. With the increasing UK employment rate, today's job seekers are looking for more than the salaries and packages that were on offer 5 years ago.
What you need to know today
UK Employment Rate
The employment rate now stands at 73.3%. This is the highest rate of people in work since the ONS (Office for National Statistics) began keeping records in 1971. These statistics reflect the fact that businesses are now hiring and expanding their teams. The total number of people without a job has fallen by nearly one million since 2010 and now stands at 1.84 million.
With more people in work, there are now fewer active job seekers. This means that there are more and more unfilled vacancies and employers are going to have to step up their game if they want to attract high-calibre candidates.
Job Vacancy Stats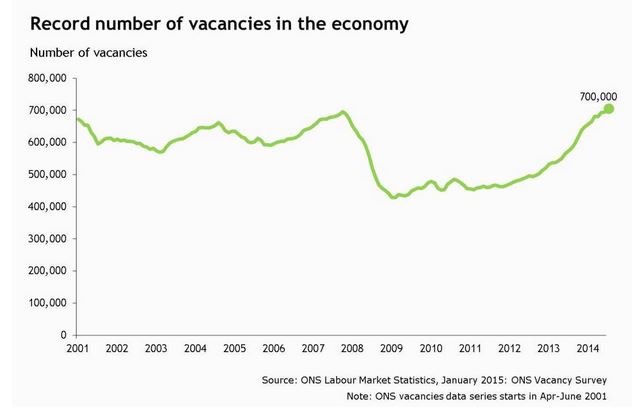 Today's independent figures show that job vacancies have risen by 127,000 to hit a 14-year record high. There are around 700,000 job opportunities across the country – rising by 127,000 in the last year alone.
The Impact on Salaries
Graduate Salary Statistics
There has been a substantial increase in graduate vacancies this year. The number of graduate roles has surpassed the pre-recession peak in 2007. It is a good time to be graduating as there will be more opportunities for this summer's university-leavers than at any time in the last decade.
With the rising number of opportunities, most employers have increased their graduate pay in either 2014 or 2015. This puts them in a position to compete effectively with other employers recruiting graduates.
According to TotalJobs' data, the average starting salary for a graduate in London is £29,000. For graduates in Manchester, the average starting salary is £25,000.
Managerial Salary Statistics
TotalJobs' data highlights that mid-level managers in London are on an average salary of £42,500 and in Manchester managers are receiving £36,600. These figures do reflect a broad range of management-level roles and those higher up in businesses would be looking at a considerable amount more. Business and branch manager salaries, for example, would be another £5,000-£15,000 on top of this.
The chart below can give you a good indication of location disparity in salaries across the UK:
What do these employment and salary statistics mean?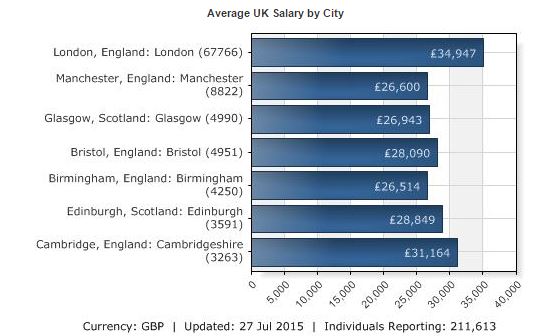 These statistics show that employers and recruiters need to assess what they are offering candidates today. They need to work harder and offer more to attract the best professionals to their businesses.