When you're dedicated to finding a new role and applying for lots of jobs, it can be tempting to take the "scatter gun" approach by firing the exact same CV off to lots of different vacancies. Even though many of the roles you are applying for will be similar, no two jobs are exactly the same so you should adapt your CV accordingly to reflect the requirements of each job.
CV tailoring doesn't have to mean a complete re-write of your CV and can actually be done fairly quickly once you're familiar with the process. Tailoring your CV is about understanding which of your qualities are most important to a particular vacancy, and making sure your CV highlights them to recruiters and employers above all else.
Using the following steps, you can tailor your CV to ensure that it has maximum appeal to every employer you send it to.
Study each job advert
Far too often candidates will glance at a vacancy and think "I've got that experience!" then send their CV without making sure they've actually included and highlighted the right experience in their CV.
When a job advert catches your eye, don't rush in and send your CV straight over in an attempt to beat the competition with speed – instead, focus on beating them with quality.
Take a few minutes to properly digest the job requirements and compare them with your CV. Imagine you were the recruiter for this role and reading your CV for the first time… Does it match up with the job specification?
Ask yourself the following questions before you apply.
Can I instantly see the main requirements for the job on my CV? If not, then you will need to move some of the information around or add some skills or knowledge that you've left out.
What am I lacking? You won't always tick every box for a vacancy and it's important that you understand your shortfalls so you can combat them. If you're missing certain experience or knowledge from the requirements, then you need to be creative and think about similar experiences or transferable skills that you can highlight in your CV to ensure you still look like a good fit on paper.
Adjust your profile
Your profile sits at the top of your CV so it will be the very first thing a recruiter sees upon opening it. For this reason, you need to make sure that it's packed with the skills, experience and knowledge that is required for their role.
Although your CV will generally be targeted towards the type of roles you are applying for; some companies will value certain skills over others. You need to ascertain which skills are the most important to the employer in question and make sure you include them prominently in your profile.
For example if a job advert states "2:1 degree or higher is essential!" and you have a 2:1 degree, then you need to ensure the recruiter knows about it.
Don't leave your degree hiding at the bottom of your CV in the education section; mention it in your profile too, so that the recruiter can instantly see you have that essential requirement.
Small changes like this don't take long to make, but they can have a huge impact on the first impression you make on the recruiter. So assess the most important requirements in the job advert and try to include all of them in your profile – even if it means being a bit creative by including experience from voluntary work, education projects or transferable skills.
Use a core skills section
A core skills section is a list of short bullet points that highlights the important skills and knowledge that you want to convey to employers. Bullet-pointed skills are really effective as they jump out at the reader, giving them a really quick snapshot of your skill set.
Take a look at the example below, you can quickly get an idea of what this person can offer by just glancing at the core skills section.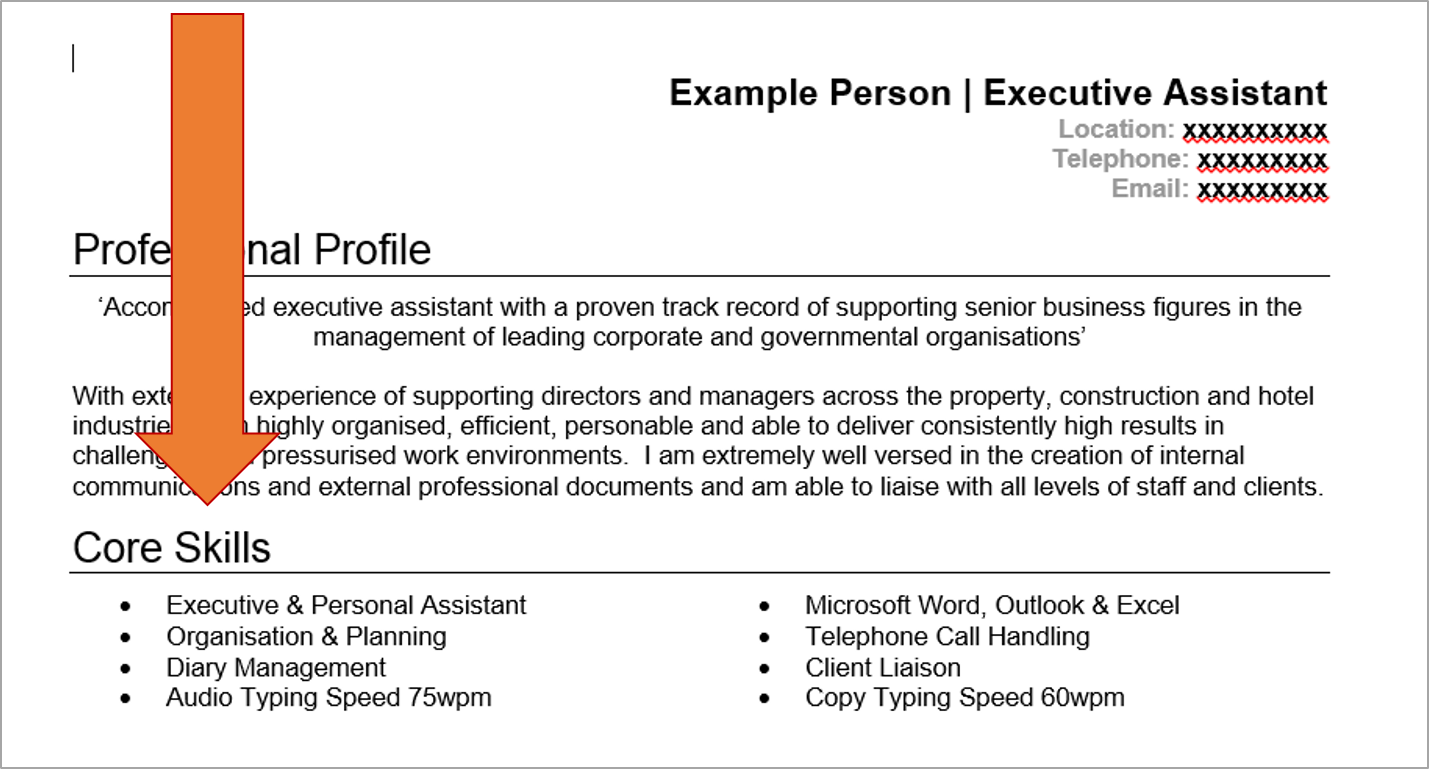 A big advantage of using a core skills section is that you can easily swap points in and out to match the requirements of each job you apply for. For each requirement of the job you are applying for, try to add a matching or similar core skill by replacing the skills that are not being asked for.
Be selective with your first role
The first role on your CV is very important because it's the first example of your work that recruiters will see, so they place a great deal of value into it. In most cases you will list your roles in chronological order, starting with the most recent – but you don't always have to stick to this rule completely.
In some cases, your most recent role might not be particularly relevant to the role you're applying to. For example, if you are a recent law graduate applying to legal firms and currently working as a restaurant waiter; then your current role will not interest legal employers particularly. So in this case it would be better to be a bit creative and list some university work placements or projects at the top of the experience section to make the CV appear more relevant.
So if your current role isn't quite relevant to the role you're applying to, maybe you could add another role such as volunteer work, freelancing or work placements to tailor your CV accordingly.
Cut down irrelevant details
The information you omit from you CV can be just as important as the information you include. If you have large sections of your CV being filled up with skills and knowledge that are not being mentioned in any of the job adverts you are responding to; then it would probably be a good idea to cut down those sections slightly. You don't have to completely remove them, but reduce the level of detail to give yourself more space to write about the skills that are actually being asked for in job adverts.
For example, if your work history from several years ago is completely different to the industry you are currently working and progressing in, then it's OK to cut down your older roles to one line summaries as your current target employers will not want to read about them in great detail.
Tailoring your CV for every application does take a bit of extra time and effort, but it will pay off as each application you make will be of a high standard and will greatly increase your chances of getting shortlisted for interviews.
What's next?
Once you've perfected your CV, be sure to upload it to CV-Library so that employers can get in touch with you about relevant jobs!
About the author
Andrew Fennell is an experienced recruiter and founder of CV writing service StandOut CV.