You're studying, participating in various internships, researching the job market, and thinking that you're ready to occupy your dream position? Or are you? Do you have what it takes to make recruiters tell you that you are hired right after the interview? You need to consider everything. And sometimes, it stretches far beyond your work experience. 
Surely you need to have a shiny resume that will attract the hiring managers. Making a good LinkedIn profile is another great way to invest in your career. But you can achieve all that by hiring professionals from ResumeService 24 if you are hesitant about your own abilities! Trust this resume service with your application – and enjoy your dream job sooner than ever.
Yes, your qualification is as vital as your resume and LinkedIn profile. But your career investment can turn out to be in vain simply because you've dressed inappropriately for the interview. "Oh, come on! That is only important if you want to work in a fashion-related industry!" you may think. And you're right, but only partly. 
For example, if you apply for a brand protection manager position at LVMH or any other luxury goods conglomerate, the way you are dressed for the interview is quite important. You simply won't get hired; if you come with a fake Louis Vuitton bag, you simply won't get the part – as you cannot be a successful brand protection manager if you can't tell a counterfeit from an authentic accessory.
But regardless of the career field you choose, your interview outfit plays an important role. While there are specific industries where you can quickly go to the interview in a casual outfit, even casualness has its own rules. Needless to say, it's important to know the rules when it comes to professions that demand an official style. 
Why Is Dressing Appropriately Important?
But the main question remains, why is it important to dress in a certain way for the interview? You may wonder, don't your work experience, your diploma, and certificates matter more than your outfit? While they do matter, a proper outfit says several things about you, your personality, and your work ethic as well. Generally, your outfit does the following:
Presents you in a professional light;

Demonstrates your understanding of the field;

Shows your knowledge of the company culture;

Boosts your confidence.
Be it formal or a casual outfit; a well-presented one displays your seriousness about the job opportunity. It emphasizes your understanding and respect of professional standards. In addition, seeing that the applicant has put little to no effort into how they dress and look, an employer may think they have the same approach to work. 
The outfit shows your understanding of the chosen professional field. If you are interviewed for a job in the law or financial sector, a formal style would be standard. Interviews for the IT industry don't demand too formal attire, so you can opt for a more casual style. But aside from knowing the industry standards, you need to look into the company culture. 
Coming to the interview in a casual outfit when recruiters are dressed formally and vice versa may indicate that you are not the right fit for the company. Picking the right outfit will prove that you not only understand the industry standards but that you've learned a thing or two about the company when preparing for the interview. 
After all, putting a bit of effort into how you dress for the interview will surely boost your confidence. You have the proper experience. You have the key skills required for the position you are applying for. And you are appropriately dressed. There is no chance left for the recruiters to say "no" – and you feel more confident than ever while being interviewed!
Things Not to Wear to an Interview
Before learning the rules of choosing appropriate attire for a casual or formal interview, you need to understand the don'ts. You should avoid wearing several things for this occasion at any cost. Everyone knows that you shouldn't wear strained or wrinkled clothes to an interview, but the list of don'ts is a bit longer than just that, as it includes the following:
Sandals or Flip-flops

Poorly fitting clothes and shoes

Flashy clothes and jewellery

Excessive makeup

Heavy perfume
While certain companies have nothing against sandals and flip-flops, the type of footwear is often considered too casual. And no matter how comfortable you feel in them, it would be the same for certain HR managers as if you turned up to an interview in sweatpants or ripped jeans.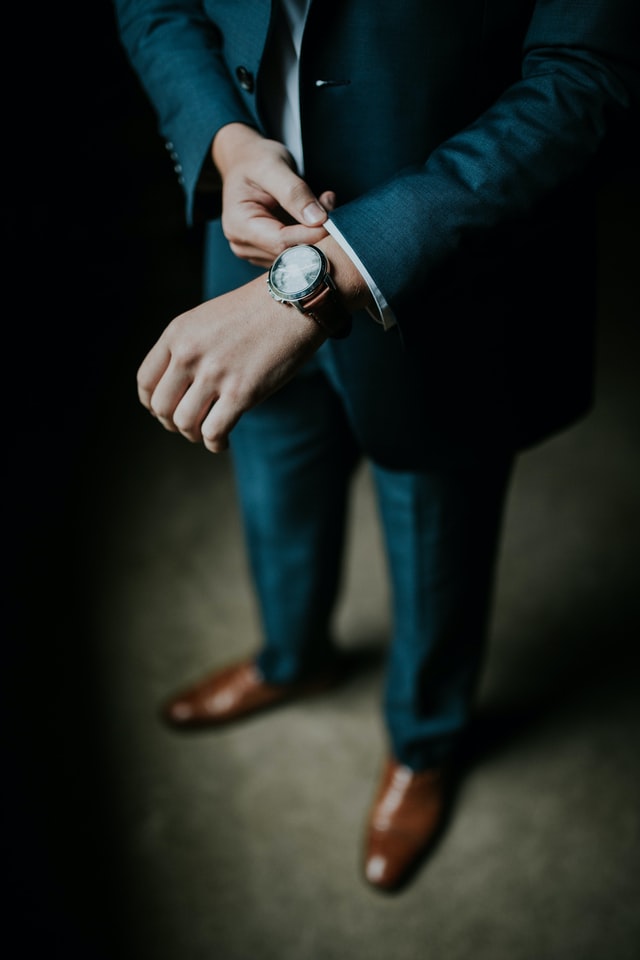 A poorly fitting outfit will do you more harm than good. You will feel uncomfortable in unfitting clothes and shoes, and you won't be able to focus on the interview and act professionally. 
Flashy clothes and jewellery may distract HR managers from what you have to say. The same goes for excessive makeup and heavy perfume; it's distracting and leaves a negative impression. 
Picking Appropriate Attire
Now, knowing everything you shouldn't wear for the interview, there are fewer mistakes you can make. While there are no specific rules that each interviewee needs to follow, after all, there are certain clothes and accessories that simply don't suit you. But here are a few things to remember for formal and casual interviews. 
Formal Interview
Formal interviews call for professional attire. Men should wear a suit jacket with a shirt, tie, and slacks. Mind that you should wear a classic tie rather than a bowtie. The shirt should be button-down rather than a button-up, as the former is considered more professional. 
When it comes to women, the outfit generally consists of a blouse and dress pants or a traditional skirt. The standard colours for formal interviews are black and white, but you can also opt for blue, grey, and brown. The main thing is that nothing should be too bright or flashy. 
Casual Interview
When interviewed at a startup company, you should ditch business style. You do want to look professional, but not too formal. You can opt for something more relaxed, but, again, you should avoid wearing anything flashy, as it does distract recruiters regardless of the industry. 
Men can wear chinos or trousers. You can also wear dark-washed jeans – in this case, you can wear a button-up shirt to complete the combination. You can opt for leather shoes, and you should wear matching socks that are not too bright, as they can be a distracting element. 
Women can wear knee-length or midi-skirts, but jeans can also work. If you feel more comfortable with the jacket, you can replace it with a cropped cardigan, as it will look professional but not too formal. You can wear either a blouse or a shirt, but the thing you should avoid is low-cut tops. 
Conclusion
There are certain things that you should avoid and a few rules to follow. Yes, it may seem ridiculous at first glance, but interviews are the way to sell yourself and your professional experience. And you want to be the candidate to be employed by the recruiter. 
You should remember that regardless of whether it's a formal or a casual interview, you need to make sure that you feel comfortable in your outfit. Otherwise, you can miss the opportunity itself. You need to focus on the recruiters' questions, rather than "Why on Earth did I put on those shoes?".