In the pharmaceutical industry, there are a number of regulations that need to be followed when it comes to packaging and shipping products. These regulations ensure that all products used by patients are safe for consumption. In this article, we will discuss some of the different ways that products can be packed and how to maintain them throughout the whole process.
1) Shrink Wrapping
Shrink wrapping is the most effective way to package pharmaceutical products. It works by using heat-shrinkable plastic film onto the product. The item must be tightly wrapped in order for this method to work, making sure there are no gaps or air bubbles when it comes in contact with the product. Depending on the size of the item, it can be shrink wrapped either by hand or machine. However, you'll need shrink wrap banding equipment to make sure the package is tight and secure. When the package is packed like this, it can be moved and stored without the contents ever coming in contact with the surface below.
2) Tray Packaging
Tray packaging is a common practice when it comes to pharmaceutical products and clinical trial kits. There are many benefits to using this method: for one, if your product is an oral solid or liquid dosage form, trays can oftentimes be easier to fill than bottles. Second, since the product is divided into single-dose forms, it means that there will be less chance of contamination or mix-ups as opposed to other supplies that might come in larger containers. Third, trays are easy to ship and store because they can easily stack on top of each other – an important factor if you only have limited storage space.
But what exactly is tray packaging? Where many pharmaceutical products come in bottles or blister packs, trays are an alternative that provide the same amount of protection for your product while maximizing efficiency and minimizing costs. They can also be custom-printed with information on them to ensure that all of the necessary information is readily available.
3) Tamper-Evident Packaging
Tamper-evident packaging is a type of security packaging that is used to detect any attempts to tamper with the product. It usually consists of two parts: the primary container and the secondary container. The primary container is the one that holds the product, while the secondary container is the one that is sealed to the primary.  This type of packaging is often used for products that are considered high-risk, such as pharmaceuticals and food products. This is because it can help to protect the integrity of the product and ensure that it has not been tampered with.
4) Temperature-Sensitive Packaging
Temperature-sensitive packaging is used for products that need to be stored or shipped at a specific temperature in order to maintain their quality, such as vaccines, antibodies, or enzymes.  It is important that the product remains within the range of storage conditions in order for it to function properly when administered to a patient. When these products are manufactured, they are developed with their optimal shelf-life in mind, so any deviation from this may affect how they can be used by physicians and patients. By using the correct type of packaging, you can help to ensure that your products are stored and shipped at the correct temperature – something that is especially important for pharmaceuticals.
5) Pouch Packaging
Pouches are a great way to package pharmaceutical products because they are lightweight, durable, and moisture-resistant. They can also be heat-sealed or taped closed in order to make sure that the product is secure and will not come into contact with other surfaces. Additionally, pouches can be custom printed with your company's logo and other important information to help ensure that your product doesn't get mixed up or misplaced. This type of packaging is often used for products that are small or need to be transported in a flexible and lightweight package.
6) Bottle Packaging
Bottles are a common type of packaging for pharmaceutical products. They are often made from glass or plastic and can be either clear or opaque. The bottle is the primary container, while the cap or lid is the secondary container. The cap can be either threaded or pressure-sensitive. When it comes to choosing a bottle for your pharmaceutical product, you should consider the size and shape of the bottle in order to choose which would be most appropriate for your product. Another important factor is how it will be shipped. If you are shipping multiple bottles with various products, it is important that they aren't too heavy or too large so that they don't affect each other during shipment. They can also be custom printed with your company's logo and other important information to help ensure that they are handled by the correct department when it reaches their destination.
7) Blister Packaging
Blister packaging is often used for products containing multiple tablets or capsules, such as medicines or supplements. A blister is made of plastic or paper-based foil, which has an adhesive that sticks it to the product. The blister can either be single- or double-sided, depending on how many pieces of the product are included in the package. Blisters are sturdy and easily visible, making them a useful way to package multiple products together without reducing their safety or effectiveness.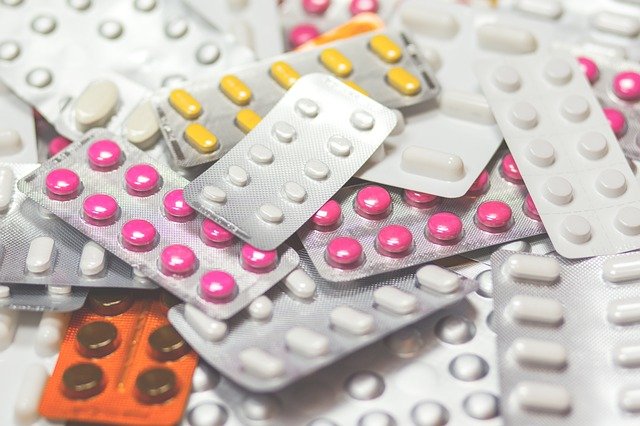 8) Banding and Strapping
Banding and strapping are two methods of securing a product to the outside of its packaging. Banding is the use of a band or strap to secure the product, while strapping is the use of plastic or metal to hold the product in place. This type of packaging is often used for products that need to be transported or shipped with a large group of other products.
There are many different types of packaging that can be used to package pharmaceutical products, and each type has its own set of benefits and drawbacks. It is important for both manufacturers and consumers to know which packaging method is appropriate for which product in order to ensure the safe transport, storage, and administration of medicine. We hope this article has given you the knowledge to make the best decisions about how to package your pharmaceutical products!