It's no secret that smart technology has taken over almost every process and system of every industry, with roofing being no exception. And with good reason – it is often one of the main assets a company has in being able to operate more productively and therefore more profitably. 
According to 2022 tech adoption data, one of the primary benefits of utilizing technology for business is in boosting sales and marketing. It can help you identify new prospects, communicate with clients efficiently, and track the progress and effectiveness of campaigns to name but a few. To sum it up, the importance of technology in business can't be overemphasised. (1)
So how can you leverage it to improve your roofing business? Here are some definitive guidelines:
1. Automate business processes
Automation is one of the significant advantages of technology in business. There are a number of industry-specific software solutions like that offered by Jobber to help companies to automate various processes, including prospecting, customer relationship management, project management and accounting. (2)
Utilising technology to automate some of your business processes can reap the following benefits:
Eliminate human errors

Save time and effort

Improve efficiency

Ensure consistency

Improve customer satisfaction
Similarly, the use of fully customized roofing invoice templates can help you create an accurate and professional-looking invoice while following best practice procedures. 
Technology that can be integrated with your existing systems will make any transition smoother and make it easier for your team to adapt to any new changes you are asking of them. (2)
2. Leverage the power of data analytics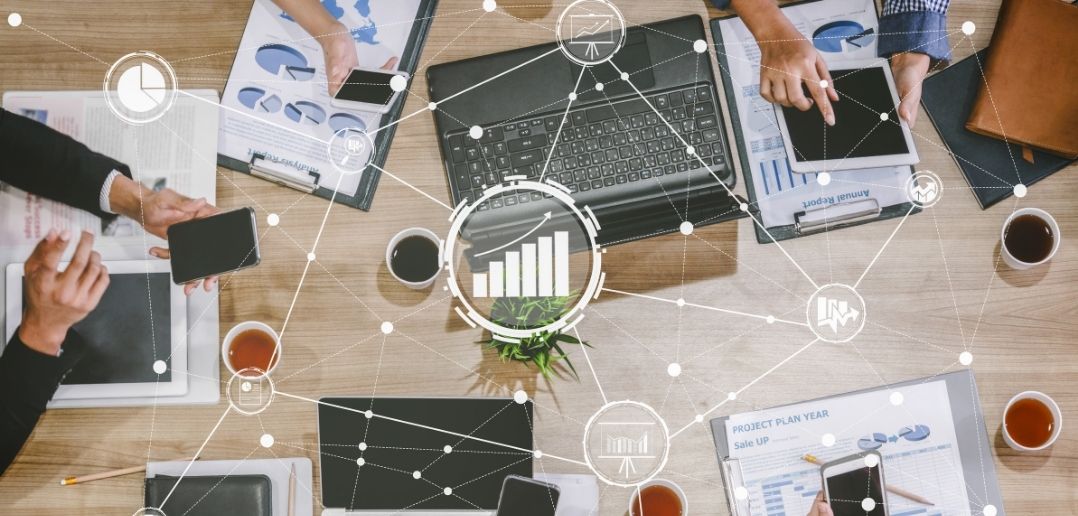 Data analytics is another area where technology can help your roofing businesses. It allows you to track and monitor various aspects of your business, including finances, marketing, and sales. As a result, you can identify areas that need improvement and make the necessary changes to boost your business's profitability. (3)
There are a few key metrics that you would be wise to keep an eye on, including:
Traffic data tracks the number of people visiting your website, how they found your site, and what pages they viewed. This information is essential as it allows you to fine-tune your marketing strategy and improve your website's SEO to attract more visitors. 
This metric lets you know how many of your website visitors become paying customers. It's essential to track this data as it allows you to see which marketing campaigns effectively generate leads and sales. 
Having a solid grasp of your financials and tracking this closely is crucial in maintaining and growing a successful roofing business. Metrics would include your revenue, expenses, profit margins, and other essential financial metrics. With this, you can see how your business is performing and address areas that need adjusting, assuming there are any. (3)
Customer satisfaction data
You can collect customer satisfaction data by collating feedback directly from clients through surveys or a rating system. This analysis will identify customer behaviour and preferences, allowing you to improve and tailor your service offering. (3)
By leveraging data analytics, you are empowered to make better business-critical decisions to ultimately improve your bottom line. (3)
3. Generate more leads with an SEO-focused website 
Most roofing companies have a website, but not all of them are SEO-friendly. If you want to generate more leads and grow your business, it's essential to have SEO so qualified leads can find you organically in the first place, quickly understand your service offering and make an enquiry or book an appointment. However, bear in mind that maintaining and improving your website to make it more visible on search engine results pages (SERPs) is a constant investment of time and cost. 
So how do you use technology to improve your website's SEO? Here are some tips:
Researching and using the right keywords

Optimising your website's loading speed, especially for mobile

Improving your website's user experience

Building backlinks
Once you have an optimised website in place, you can move on to other digital marketing tactics, such as social media and email marketing. (4)
4. Create a strong online presence with social media 
Having an SEO-focused website is just the first step in creating a solid online presence. It's also advisable to be active on social media. This technology can help you connect with your target audience, build relationships, and improve brand awareness.
Here are a few tips for using social media effectively for your roofing business:
Post engaging content that adds value to your followers

Use relevant hashtags to reach a wider audience

Respond to comments and messages promptly

Include call-to-actions in your posts

Take advantage of social media advertising

Use it to showcase your work
A robust social media presence could eventually lead to sales and more customers. So, make sure you're using this technology to its full potential.
5. Use email marketing to stay in touch with your customers 
As mentioned, email marketing is another effective digital marketing tactic for your roofing business. This technology allows you to send mass emails quickly and easily. Such messages can include new products or services, special offers, and other relevant information to your subscribers.
When using email marketing, it's essential to:
Build a list of subscribers

Segment your email list

Personalise your emails

Create catchy subject lines
Email marketing can help you nurture your relationships with customers and keep them updated about your business. Plus, it's a cost-effective method that has the potential to generate a high ROI.
Takeaway
Technology can do wonders for your roofing business if you use it correctly. By following the tips above, you can boost your business's profitability and stay ahead of the competition. Just ensure you're using the right tools and strategies to get the most out of it.
References: