A daycare space might feel like a typical child environment and space. It is full of colours, furniture made for children and toys. But there is a large amount of work and professionalism that goes into the effectiveness of such a space. These design choices are not made arbitrarily, and a lot of thought goes into the layout, safety, educational effectiveness, and appeal to both the child and the parent. Here are a few design tips that make a daycare seem more appealing and practical.
The Exterior
The outside of any space can tell you a lot about what you can expect inside. When you look at your daycare what sort of message does it give off? Parents arrive at a daycare with preconceived ideas regarding what the interior is like and the quality of education based on the exterior. Buildings like the Global Academy project in Hayes exude academic excellence and space for a lot of children. It looks sleek and modern. What sort of equipment do you have displayed outside?
A jungle gym/obstacle course for young ones is a great way to show that your school not only values cognitive development but also physical development. This attention to detail should translate to the interior.
The Interior
Appropriate Bathrooms
Many little children will either need to be potty trained, or will already be, but will still need help getting up to the toilet. One of the most practical things to do is to be sure that you have bathrooms that are appropriately sized for young children. Basins and toilets should be smaller and accessible so that they are able to access them without much stress and learn independence.
Appropriate Finishings
You need to be aware of the type of materials you're using when decorating a learning space for young children. Some paints and wallpapers are made with harmful chemicals that need to be avoided at all costs. Also avoid using objects that have small parts as little children explore by putting things in the mouths, ears, and noses. Here are a few safe materials:
Carpeting & rugs – be sure to use a solid colour with a tight weave, or one that is specifically decorated for a daycare.

Hardwood cabinets and shelves – make sure that cabinets are secured to the wall

Toys – make sure toys that toys are non-toxic and made from natural fibres

Non-toxic wallpaper (low-VOC, phthalate-free)

Non-toxic paint
Decor Ideas
Personal Art
A nice personal touch for any daycare is a piece of custom artwork. There are many ways to do this. One option is to create a collage of different pictures of the children having fun using the facilities. This is welcoming to both the parents and the children as they are greeted with happy children. Another option is to create a mural composed of self-portraits that the children have drawn.
Landscape Mural
A fun and creative interior design idea could be that of painting a landscape mural or, if you do not want it to be a permanent feature, get a cute, age-appropriate landscape printed on some wallpaper and get someone to install the wallpaper. The latter of the two is great in the case of renting or leasing space as it is not a permanent feature. This is a lovely option to promote the use of imagination as children come to play and learn each day.
Town Market Mats
If you haven't seen this before you are in for a treat. Not only do children love them because of the miniature world they now have fun reign and creative control over, but these double as a tool to boost cognitive development and motor skills. These mats and rugs have little villages and towns printed or sewn into them and children love them. They get the chance to emulate their parents as well as the world they see around them.
Little Town Lifesize Booths
Taking the idea of simulating real-life one step further is life-size mini-town booths. A police station, supermarket, fire station, and many, many more options are available for purchase to truly elevate any play and learning through play areas. You can go between each booth, having the children dress up and learning about real situations and how to handle them through play. For example, you can act out a shopping scene, or any emergency. Have a child call the play-play fire station, teaching them emergency numbers as well as how to handle a stressful situation.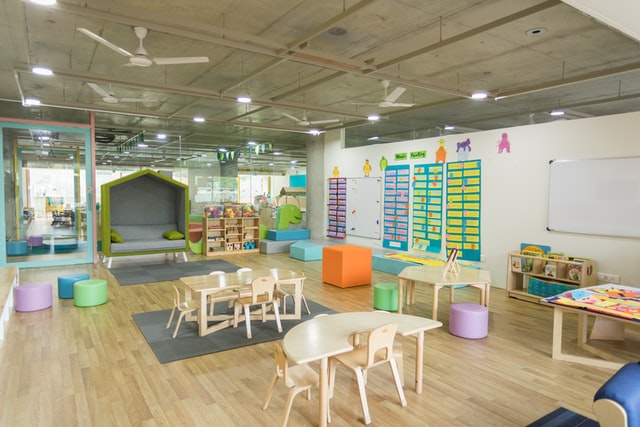 These are a few practical ways to make your daycare more appealing to both children and parents.